CONCISE COMMERCIAL CLOSINGS
At Title Solutions Of Florida LLC, we have experience in handling the unique challenges presented by commercial transactions between buyers and sellers. We will begin by identifying all potential issues before they become problems.
We close complex commercial transactions for all types of commercial and industrial properties throughout our region, this includes:
Title search,
Lien search,
And closing services of purchase for commercial properties or refinancing.
We'll handle any problem, so you don't have to
OUR GUARANTEES
When you are buying a commercial property, Title Solutions Of Florida LLC will make sure:
The contract of sale is properly executed
The most up-to-date title insurance policy is received
True copies of all leases are received
The seller's books and records are properly reviewed
Any outstanding tax cases or liens have been identified
For sellers, we will make sure:
The for sale contract has been properly executed
Buyer has delivered the correct down payment
Response to any objections to the title and survey report has been filed
The buyer has correctly executed the assignment and execution of leases
We'll manage it all, whether you're selling or buying.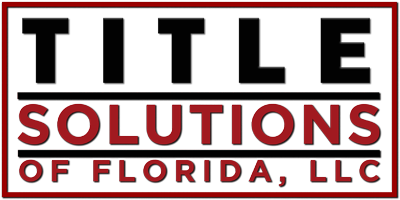 By giving each of our customers' closings the personal attention it needs, and by providing all of the people involved in the transaction with amazing service, we hope to earn your business for years to come!