VALUES
Get – It – Done Attitude. We are like detectives scouring through paperwork and other information to find solutions to our client's issues.
High Quality Client Experience. We want to make sure we highlight our clients by doing the best we can so their clients have a great experience.
Diplomacy. We strive to solve the problem even through conflict, and we focus on this with our clients and within our team!
Always assume the best. With ourselves, our team and our clients. We try our best to put ourselves in each others shoes, giving grace and remembering that everyone goes through stuff and our clients are sometimes going through one of the most stressful times of their lives!
ABL – Always Be Learning. None of us know everything. We are consistently creating opportunities for our team and our clients to learn and grow together!
MISSION
Enrich closing experience for buyers, sellers and agents – ALL clients. Our goal is to provide a reliable closing experience.
PROCESS
Receive the Contract and Earnest Money Deposit

Send wiring instructions or EMD app information
Set up the file in our system, Qualia
Client receives invite to Qualias secure portal

!!! SUPER IMPORTANT for security and privacy. !!!

Qualia automatically requests information from all parties

Order the Title Search and gather information

Order Payoff statements, municipal lean search, surveys and HOA
estoppels
Gather any additional personal information the clients did not
provide in Qualia

Review, send out and clear the Title

Communicating with all parties for additional items needed to clear
title
All parties receive copy of title commitment for review to proceed
Prepare Title closing documents

Continued follow up with the lender

Verify the lender will meet the closing deadline
Balancing closing disclosure
Obtain loan documents from lender
Schedule closing time with all parties

Provide final closing statement to all parties

Send wiring instructions by secure email or Qualia portal to the buyer
Buyer wires funds PRIOR to closing date
All parties prepare for closing by bringing photo identification.
Buyers prepare for closing by bringing wire confirmation receipt
Sellers prepare for closing by bringing wire instructions for close

Close!
Sending copies of closing documents to all parties
Guarantee: We will never be the reason a transaction does not close.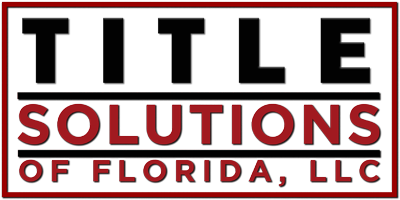 By giving each of our customers' closings the personal attention it needs, and by providing all of the people involved in the transaction with amazing service, we hope to earn your business for years to come!