COMPREHENSIVE RESIDENTIAL CLOSINGS
Buying a home is a daunting task. There are stacks of paperwork to fill out, and a whole host of other procedures you have to consider before making one of the biggest life investments.
When you trust Title Solutions Of Florida LLC, we'll make sure you get the title insurance you need to protect your investment.
This means handling everything from titles searches to lender loan closings with precision and care so there are no unwanted surprises!
We are committed to protecting your home.
Extensive Services
Title Solutions Of Florida LLC services include:
Title Search is an investigation into the quality and 'marketability' of a property title.
Lien Search finds out if the asset is attached to a creditor trying to collect a payment.
Title Insurance ensures that a buyer/lender is protected if any defect is found after a purchase has been made.
Lender Loan Closing is carried out to review and sign the numerous documents associated with the loan.
Disbursement of Funds guarantees that money received from the loan is distributed to the respective parties.
Recording of Legal Documents registers all the changes to title/deed to account for purchase/sale.
Title Closing handles everything from final paperwork to handing over the keys.
We carry out in-depth research to secure your investments.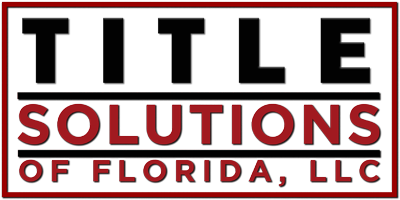 By giving each of our customers' closings the personal attention it needs, and by providing all of the people involved in the transaction with amazing service, we hope to earn your business for years to come!