IS AN FHA LOAN RIGHT FOR YOU?
An FHA loan is a home loan that the U.S. Federal Housing Administration (FHA) guarantees to individuals wanting to purchase a home.
FHA loans are designed for low-to-moderate income borrowers who are unable to make the large down payment needed to secure the loan.
The loans are issued from private lenders like banks and credit unions, and the FHA will stand in as a back-up if you are unable to repay your loan.
Title Solutions Of Florida LLC is here to help with the necessary FHA closing task that will secure a successful FHA loan application. We also provide VA closing services for veterans.
We'll help guarantee a successful application
ALL YOU NEED TO KNOW ABOUT FHA CLOSINGS
The FHA closing process can be held in several locations, these being the most common:
the title company's office,
a real estate attorney's office,
or your mortgage lender's office.
Title Solutions Of Florida LLC will help prepare you for the rest of the procedure:
This begins with asking questions about the loan documents you will have to review and sign
You will also need to provide evidence of a homeowners insurance policy, such as a homeowners insurance binder.
You will need to produce a cashier's check to cover down payment, closing costs, taxes, and prepaid interest (if applicable). The total costs will be outlined in a closing disclosure document delivered three days before your FHA closing process.
Your mortgage lender will then release the funds covering your home loan amount.
Depending on the terms of your contract, some borrowers are required to set up an escrow account with their lenders. An escrow account allows you to pay your property taxes and insurance premiums along with your monthly mortgage payment.
Expert advice from start to finish.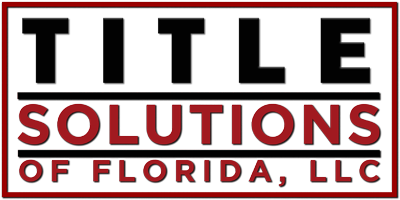 By giving each of our customers' closings the personal attention it needs, and by providing all of the people involved in the transaction with amazing service, we hope to earn your business for years to come!