OUR PROFESSIONAL TITLE COMPANY SERVICES
The two roles Title Solutions Of Florida LLC plays in real estate transactions, whether commercial or residential, are:
Providing a title search and examination of the property. A detailed search of all public records (liens, mortgages, or unpaid taxes) is made to see whether there is anything that might affect the title of the property. Using this information, a title insurance commitment is prepared to establish a good and marketable title for the purchaser.
Providing escrow services. Our escrow officers oversee transactions to ensure contracts terms are satisfied. We make sure documents have been properly executed, and all disbursement of funds are carried out.
After the closing, we will record all the necessary documents, forward all payments to any prior lender, Brevard County Tax Collector, and pay all parties who performed services or are due funds in connection with the closing.
Detailed searches to ensure no problems.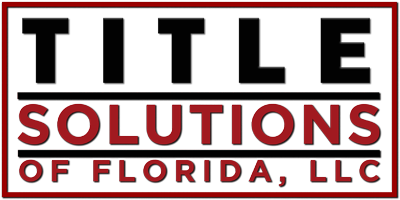 By giving each of our customers' closings the personal attention it needs, and by providing all of the people involved in the transaction with amazing service, we hope to earn your business for years to come!